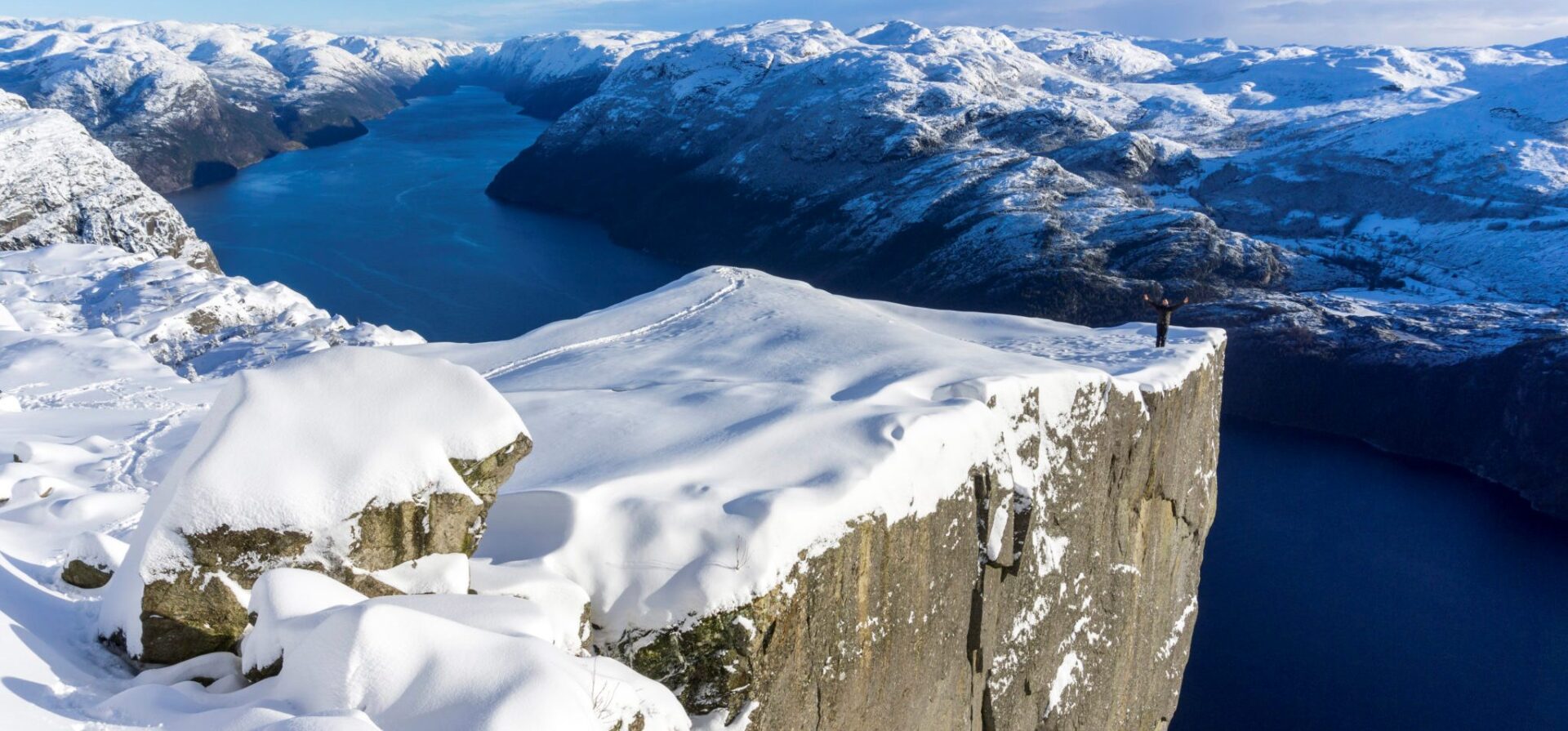 Preikestolen
Winter/Spring Hike
WHEN TO GO:
2019 Season: January 2 – April 30
PARTICIPANTS:
MAXIMUM: 14 Hikers
MUST BE:
≥ 8 years old
> 36kg | 79lbs.
> 135cm | 4ft. 5in.
Please do not book tours that exceed
your skill-level or physical abilities.
Duration:
9-10 HOURS
PricE:
1190 NOK Per person
Adrenaline level:

60%

60%

Difficulty level:

55%

55%

Scenic beauty level:

100%

100%
MODERATE DIFFICULTY LEVEL
Suitable for participants who are generally in good physical condition & have previous hiking experience.
•  Distance: 8 kilometers
•  Ascent: 500 meters
WEATHER CHANGES
Due to the possibility of rapidly-changing weather conditions, it may be necessary to make changes to scheduled trips. In the event that your trip needs to be rescheduled for another day or cancelled on short notice, you may choose between joining the rescheduled trip or getting a refund. In the event that weather conditions deteriorate during your trip, it may be necessary to turn around on the trail or head back earlier than planned. If this happens, no refunds will be given.
TOUR INCLUDES
 • Hotel pick-up / drop-off
 • Transportation
 • Professional guide
 • Use of snow spikes
 • Use of hiking poles
 • Hot beverages & snack
• Post-hike hot soup (Feb. – April)
• Swords in Rock monument visit
PLEASE BRING
• Proper hiking boots*
• Warm, thick socks x 2
• Water-resistant pants*
• Rain-proof jacket*
• Fleece or woolen sweater
• Warm hat and gloves* 
• Small backpack*
• Packed lunch / water / snacks
*items can also be rented
EXTRAS
• Photography package
• Hiking boot rental
• Hiking pants rental
• Hiking jacket rental
• Day-pack rental
• Hiking gloves
Grab the chance to beat the crowds and enjoy Preikestolen (Pulpit Rock) and Lysefjorden during the serenity of Norway's off-season.

Includes
* Post-hike hot soup
* 'Swords in Rock' Viking Monument Visit
This is a unique Preikestolen hiking adventure!
Early in the year, you can delight in the crisp stillness of Norway's long, dark winter. You'll hike in near-solitude while encountering breathtaking views of Preikestolen and Lysefjorden, which are often blanketed in snow and ice. As springtime approaches, bright green foliage starts sprouting up through the snow and Lysefjorden begins its yearly transformation into a green fjord oasis. The busy summer season may be just around the corner, but visitor numbers remain low.
Grab the chance to beat the crowds and enjoy Preikestolen and Lysefjorden during the serenity of Norway's winter and spring.
Conclude your adventure with a visit to the 'Swords in Rock' viking monument.
Because of the presence of snow and ice, hiking to Preikestolen without a guide during the wintertime (January – March) is not recommended. Our professional guides are trained to safely maneuver through the frozen landscape as well as winter's rapidly changing weather conditions. They carry with them all necessary navigation, safety, first-aid, and outdoor winter equipment.
After an early-morning pick-up, your adventure will begin with a 40-minute ferry ride, during which you can view Stavanger from a different perspective and get an overview of the surrounding fjords, islands, and mountains. Your guide will then transport you to the base of the hiking trail. After a short briefing, you'll embark on your journey to Preikestolen.
Your guide will lead you up through the shifting terrain and onward to the mountain's plateau. This early in the year, weather conditions are constantly changing and the trail is often covered with snow and ice, even well into springtime. As needed, you'll adjust the equipment (ice spikes, etc.) to match the changes in terrain. Along the way, there will be opportunities to catch your breath, enjoy a warm beverage, and snap photos of the spectacular nature around you. After 2.5-3.5 hours* of trekking, you'll be rewarded with a panoramic view of some of the most dramatic scenery Fjord-Norway has to offer. Standing atop the 604-meter-high cliff, the views of the Lysefjord and surrounding mountains are nothing short of awe-inspiring. You'll be one of the few that have experienced Preikestolen off-season.
After a well-deserved break at the cliff's edge, your guide will lead you back down to the trail-head, which will take about 2 hours. If conditions allow, your guide will take a slightly different route on the way back down from Preikestolen. This alternative path is not found on any maps, and will therefore allow you to avoid anyone who might be on their way up the main trail. Your hike will conclude beside Refsvatn Lake, where you'll enjoy freshly-baked bread and a well-deserved (and delicious!) bowl of homemade soup at Preikestolen Mountain Lodge (February – April).
After a few last breathes of crisp mountain air, you'll return as a group to Stavanger. On the way back, you'll navigate a different route, including a second ferry crossing, which offers unique views of the mouth of Lysefjorden.
Your adventure will conclude with a stop at the viking monument 'Swords in Rock', where king Harald Fairhair's triumph in battle (between the years of 872 and 900) resulted in Norway finally becoming one kingdom.
(TIP: spending the night at Preikestolen Mountain Lodge is highly recommended – whether it be the night before or the night after our hike.)
Duration:

Total: ~9-10 hours
(depends on pick-up location and weather conditions)
Hiking: ~5 hours (including breaks)
Transportation: ~1 hour (each way)
Post-Hike Rest*: ~2 hours (freshly-baked bread & soup Preikestolen Mountain Lodge) *
February – April
Visit to 'Swords in Rock' viking monument: ~20 minutes
Pick-up:
When booking, you can select one of the following pick-up locations**.
**On occasion, during periods of high-demand, we may set up additional departures. When that's the case, meeting and drop-off times will vary. Please click on the 'Book Now' button to check availability. 
Drop-off:
The tour ends in Stavanger at approximately* 17:00 (5:00pm).
You will be dropped-off at the same location from which you were picked-up.
*Due to the possibility of changing weather conditions, your trip may last longer than approximated.
Do like Tom Cruise in Mission Impossible. 
Hike to Preikestolen and experience the amazing views first hand.
This is a mission very much possible...