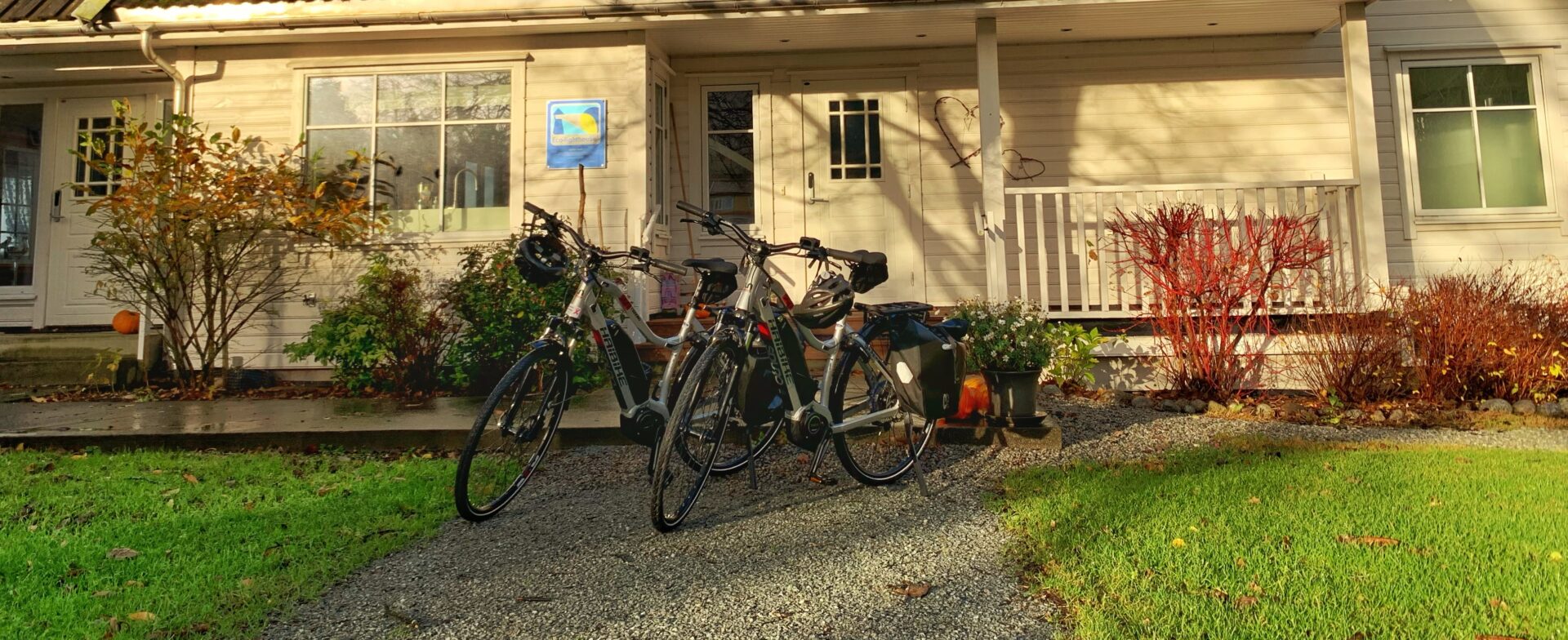 bikes:
E-bikes: haibike sduro trekking 2.0
a variety of traditional bikes
MEETINGPOINT:
OUR BIKE ARE STATIONED AT GØYSA GARD, BUT WE CAN DELIVER RENTAL BIKES TO OTHER LOCATIONS ON REQUESTS.
PriceS e-bikes:
Day 1 :     900NOK (0800 – 2000) 
Day 2 :   +700NOK 
DAY 3-6: +400NOK 
WEEK :    3000NOK
HalF daY: 600NOK (08-14 OR 14-20)
guests at Gøysa Gard : 20% discount
Family/Group discount (4 bikes or more) : 20%
bike carriage for 2 children: 200 NOK pr daY
BIKE trailer tandem: 200NOK pr day
PriceS traditional bikes:
adult bikes: 100NOK pr day (minimum rental)
Children bikes: 50NOK PR day  (minimum rental)
 

SUSTAINABLE ADVENTURE

100%

100%

EXERCISE (UP TO YOU )

80%

80%

SCENIC BIKE ROUTES

90%

90%
At Gøysa Gard, we offer bike rental and guided bike tours. You can choose between our electrical bikes which can take you to the far ends of our beautiful area, or our traditional bikes if you want some more exercise or just a little tour around in the neighborhood.    
Biking around Forsand and the surrounding areas is one of the most sustainable way of exploring stunning Norwegian nature. There are mile after mile with small cozy roads taking you up the valley, along the fjord and on roundtrips between mountains, waterfalls and lakes.   

There are also lots of hikes in the area which is perfect to explore in combination with a bike tour. We know the area and are more than happy assist you in making a plan that suits you.
It is also possible to do a multiday tour and either sleep over in a tent, or stay in a cabin operated by DNT (The Norwegian Trekking Association )
Contact us on explore@lysefjorden.com or phone +49 919 03 919 for questions and bookings.  
Do like Tom Cruise in Mission Impossible. 
Hike to Preikestolen and experience the amazing views first hand.
This is a mission very much possible...