Below, we have listed some of the places where you could stay while exploring Lysefjorden and the surrounding areas. There variety is good, and consist of comfortable hotels, farm stay, AirBnB's and Bed & Breakfasts.
To relax and get close to the Norwegian nature, we recommend that you stay outside Stavanger, which is also closer to many of the sights and exciting activities the region has to offer. 
Gøysa Gard – Our own charming family driven farm is perfectly located in the small village of Forsand, with a stunning view over Lysefjorden and the surrounding mountains. This is the perfect place to stay while exploring Lysefjorden and the rest of the region.
Directions on Google maps
The Bolder  lodges are designed to be a sanctuary immersed in nature, and they are built to minimize the footprint in the landscape.  Whether you need to relax, recharge or reset – The Bolder invites you to do so in the most breathtaking surroundings, just 40 minutes drive from Stavanger.
Directions on Google maps
Preikestolen Basecamp is located at the entrance of Pulpit Rock, just 30minutes drive from Stavanger Airport, Sola. At the basecamp, there are several overnight accommodation options, from hotel comfort to glamping and rustic cabin charm. There are also a variety of activities at the basecamp, such as floating sauna, hot tub, rental of canoes, kayaks, pedal boats & SUP.
Directions on Google maps
Lysefjorden Marina which is located 750m along the road by the fjord from The Pink Ferry Dock at Forsand, offers 3 apartments of different sizes. These are all on AirBnB.
Directions on Google maps
Lysefjord Hyttegrend has a beautiful location with panorama view to Lysefjorden and only a short distance from attractions such as Preikestolen, or Pulpit Rock and Kjerag. They offer various types of cabins for short or long term rental.
Directions on Google maps
Haukali 33/3 offer guests a simple, historical and authentic holiday experience in a small cottage with space enough for 8 persons.
By travelling back to 1850 we want you to experience the "old" sense of time and "slow life". Everyday life in 1850 was a lot of hard work – but it was also beautiful in many ways – and calming for body and mind.
Directions on Google maps
Songesand Camp is located in Singesand which is about half way in Lysefjorden. They have 5 regular beds, kitchen with cooking facilities and toilet / shower. In addition they have space for caravans and tents outside.
Directions on Google maps
Flørli Hostel and apartments has four rental apartments plus Flørli Historic Hostel. All have a fjord view. The standard of the apartments is basic, but fully equipped and with a kitchen, bath and electricity. There is no television. There is excellent internet in the nearby Power Café. From the living room you have a nice view of the fjord and the harbour 100m away. There are 3 bedrooms and 9 beds in each apartment. Heating is electric and with wood. Flørli Historic Hostel is a villa with 5 bedrooms and 17 beds. It was the guesthouse where prominent visitors of the power plant were hosted and it is still completely authentic: enter and enjoy living one hundred years ago! When the historic hostel is fully booked, you'll get an equivalent room or bed elsewhere.
Directions on Google maps
The Norwegian Trekking Association (DNT)
Operates over 500 cabins across the country, and several of these are in and around Lysefjorden.  Search for their cabins here.
Kjerag Lysebotn B&B has 10 double rooms and is located a stone throw away from the camp. All rooms have single beds, and private bathrooms. Breakfast is served at Kjerag Cafe & Restaurant or at Camping Bistro.
Directions on Google maps
Kjerag Lysebotn Camping Resort, has a total of 6 cabins.
2 of the cabins are large family cabins with two bedrooms, living room, kitchenette with hob and fridge. Shower and toilet.  One of the bunk have double beds, making a total of five people can be accommodated.
2 of the cabins have three single beds in 2 rooms. Toilet, shower and kitchen are to be found in public facility located next to the cabins.
2 of the cabins have 2 single beds, 1 room. Toilet, shower, kitchen is to find the common facility located next to the cabins.
Directions on Google maps
Hostel – White house
The charming hostel, located next to the bistro has the same great views as the cabins. Here they offer 5 rooms of which 2 are single rooms, one is 6 bedded rooms, one 4 bedded rooms and one double room. The house also contains a kitchen with dining area and living room with sofa and dining table.
Hauane Bed and Breakfast was awarded the #5 best B&B in Norway in 2015, by Tripadvisor travellers. It is an old farm, consisting of a farm house, a barn and an "eldhus". They offer a good nights sleep in a made bed, a tasty traditional Norwegian breakfast, set in a rural and scenic environment. Hauane B&B is situated in Lysebotn, in the end of the Lysefjord. 15 minutes drive from Øygardstøl, the startingpoint for the hike to Kjerag. 5 minutes drive from the harbour.
Directions on Google maps
Lysefjorden Lodge in Lysebotn, the end of the fjord, is the perfect base for hiking to Kjerag or Nilsebu. Lysefjorden Lodge is a part of the Preikestolen Mountain Lodge is a part of The Norwegian Trekking Association. Season is from mid May to mid October.
At the lodge, they serve breakfast, lunch and donner in the season.
Booking can be done on e-mail booking@lysefjordenturisthytte.no, or telephone: +47 94826602
Directions on Google maps
If you want to stay in your own tent or camper, there are also several places in and around the fjord you can stay.
In addition to the mentioned accommodations, there are many hotels in the surrounding cities like Jørpeland, Sandnes and Stavanger.
Most of these can be found on Booking.com
Preikestolen Basecamp serves homemade dishes using fresh local products.  The restaurant and cafè has a panoramic view over the Refsvatnet. For requests or booking, the lodge can be contacted on telephone +47 51 74 20 74 or booking@preikestolenbasecamp.no
Directions on Google maps
Bakernes Paradis restaurant Sandnes is located on Lauvvik by Høgsfjord, 20 minutes by car from Sandnes and just across Lysefjorden. 40 minutes by boat from Stavanger and 45 minutes by car from Stavanger. They offer homemade food, coffees and home food. The shop in Heimahuset has a great variety of wonderful handcrafts, interior, local food products and freshly baked bread. A great place to visit for a day trip. Great for fishing and activities. And recreation.
Directions on Google maps
Lysefjordsenteret restaurant looks out over breath-taking scenery – a thrilling panorama that takes in the junction of Lysefjorden and Høgsfjorden. In fact, this is just the sort of scenery that used to inspire Grieg's most romantic compositions. We also have a large terrace that is very popular with guests during the fine weather. Business meals, gala evenings, dinner on the shore – the choice is yours. See their own website for opening hours.
Directions on Google maps
Lysefjorden Marina is a small local grocery store, 750m along the road by the fjord from The Pink Ferry Dock at Forsand. They have their own bakery and offers various sandwiches in addition to catering services.
Directions on Google maps
Lysefjorden Sjokolade is the local chocolate factory in Lysefjorden. They have outlets in both Jørpeland and at the shopping center Kvadrat in Sandnes. In addition they have a outlet and a cafe where they produce the chocolate in Eiane, Forsand. For bigger groups of friends of colleges, you can rent the cafe for meetings etc, and they also arrange courses in baking, creating confectionery, cupcakes etc.ervices.
Directions on Google maps
Villa Rosehagen is a small local grocery store, 750m along the road by the fjord from The Pink Ferry Dock at Forsand. They have their own bakery and offers various sandwiches in addition to catering services.
Directions on Google maps
Overlooking the beautiful Lysefjorden.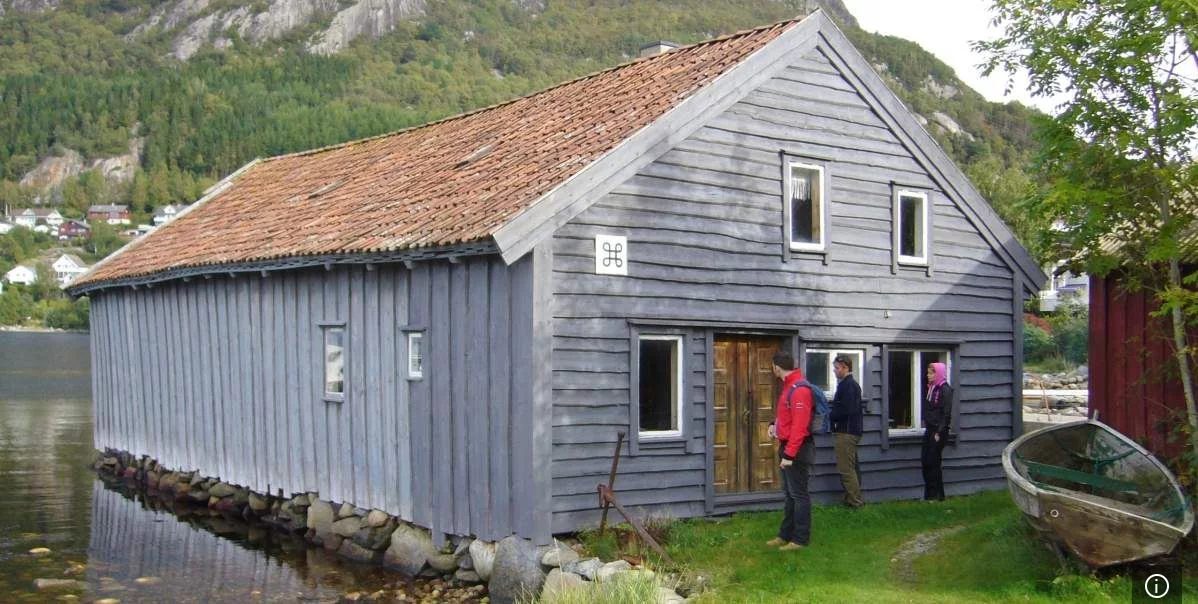 Prehistoric Village Landa Park. Fossanmoen and Landa has been the site of the largest archaeological excavations in Norway. Over 80 000 square meters are examined. Excavations uncovered traces of over 250 houses as far back as about 1500 BC until about 600 AD. It has, in other words lived people here for over 2,000 years!
Four prehistoric houses shows the way of life in the Bronze and Iron Ages. In addition, the other houses are marked with posts in postholes.
Directions on Google maps
Waterside Warehouse, Bergevik. 800m along the road by the fjord from The Pink Ferry Dock at Forsand. Built in the mid-1800s for conserving and salting herring, bait-shells, and anchovies, it was later a general store, a church-goers' guesthouse, a furniture workshop and a toy factory. Up to 3 families lived here at a time. If walls could speak, many tales might be told about it, but it now serves for communicating sea-faring and fishery history. Guided tours by appointment on telephone  +47 51 70 36 60.
Link to Google maps
Apart from Kolumbus which handles all public bus transportation in the area, there are several privat companies that provides transportation. For bus and express boats, you can use the travel planner.
Strand Taxi provides Taxies in Strand and Forsand. They can be contacted on telephone +47 51 74 64 11
Pelles Reiser is a transport company located at Jørpeland. They offer bus tours in and outside Ryfylke for sports teams, corps, kindergardens, choirs, schools, associations and private individuals.
Contact Pelles Reiser on telephone +47 975 26 609, or on their website.
Maybe you need a ferry to get around! They travel through the fjord and back, and you can check out their time tables on Lysefjorden365. This page keeps up to date in case of any potential changes to schedules.

The Norwegian directorate of fisheries has some general rules for Fishing by tourists in Norway.
The text below is gathered from their own website www.fiskeridir.no. The coastal fish stocks in Norway are under pressure and we need to increase our efforts to ensure that future generations will also be able to enjoy fishing as a sport or recreation in Norway. The fish in the sea are free for all, but we have a goal to safeguard fish stocks for the future. You are therefore very welcome to fish for free in Norwegian sea waters, provided that you follow a set of simple rules:
Foreign tourists may only use handheld tackle when fishing in the sea. Tourists are not permitted to make use of nets, pots, traps, lines etc.
Tourists are permitted to take up to 15 kg of fish and one (whole) trophy fish out of the country. Freshwater fish such as salmon, trout and char are exempt from the 15 kg limit.
You must keep a distance of more than 100 metres from the closest fish farm when fishing. All boat traffic shall keep a distance of at least 20 metres from fish farms and moorings for fish farms.
The Directorate of Fisheries is happy to answer any questions in English, Russian or Norwegian. Contact them by email at info@fiskeridir.no.
Guidelines for recreational fishing in Norway can be downloaded here.

In Forsand there is both a river and a lake where you can fish for salmon. In the river "Espedalselva", you can purchase day pass from Norwegian Association of Hunters and Anglers to fish for salmon. (between 01.June till end of August)
Contactperson: Rune Søyland
Mobile: 908 90 850​​
E-mail: runisen@online.no
It's also possible to purchase a day pass for another stretch in the river from the owners of the river. For more information and to purchase day pass, follow this link.
To fish for salmon or trout in Espedalsvatnet or Røssdalsvatnet , you can purchase this yourself with cash at the Bus stop about 200m passed Espedalsvatnet.
In Forsand, fishing gear can be bought at the following places:
Lysefjorden Marina, 750m along the road by the fjord from The Pink Ferry Dock
Directions on Google Maps
COOP MARKED, supermarked by the ferry quay, "The Pink ferry dock" in Forsand, the very beginning og Lysefjorden.
Directions on Google Maps