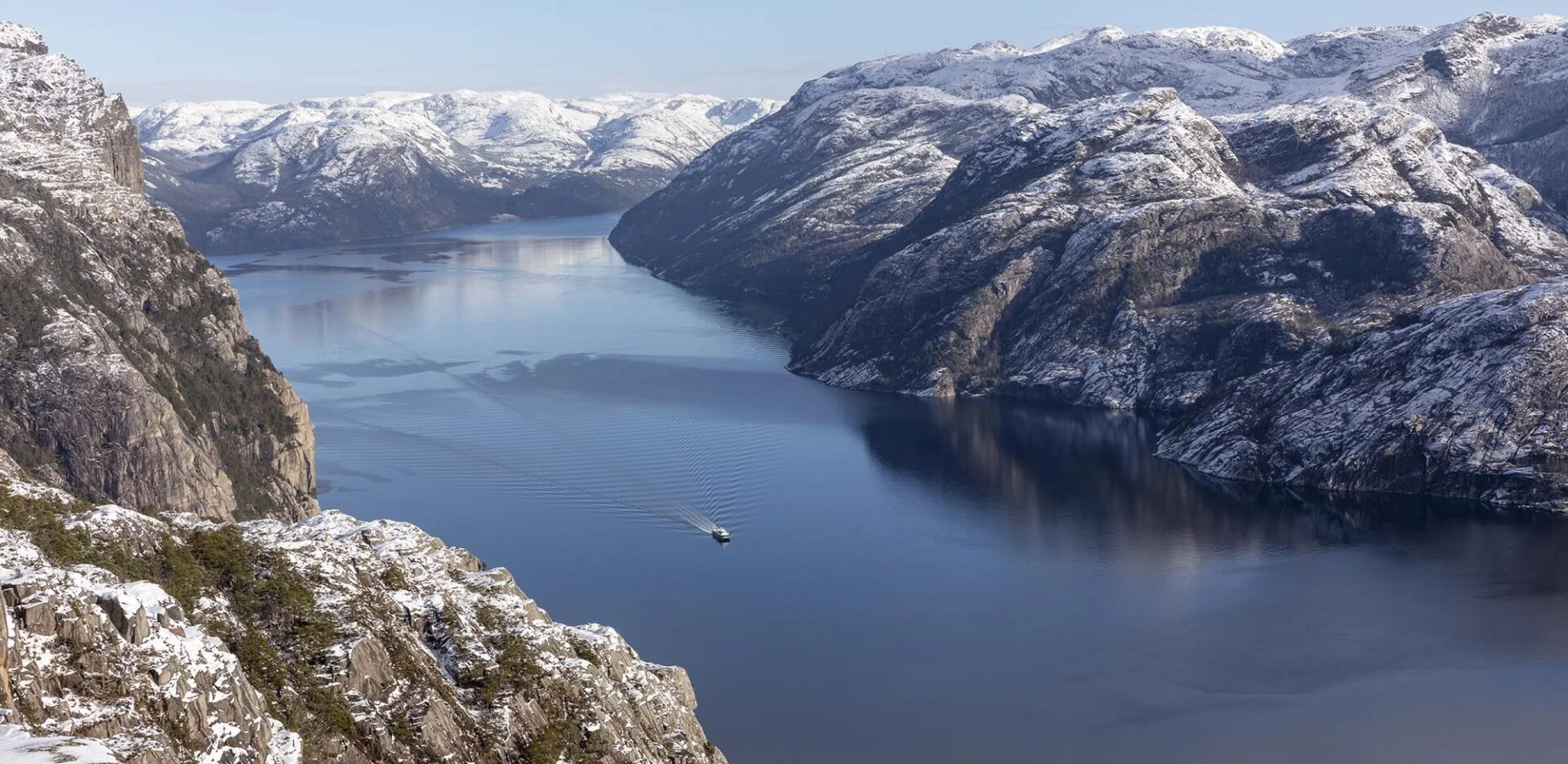 Preikestolen
Cruise & Hike
Season: OCTOBER 1. – December 31
PARTICIPANTS:
MAXIMUM: 8 Hikers
MUST BE:
≥ 8 years old
> 36kg | 79lbs.
> 135cm | 4ft. 5in.
Please do not book tours that exceed
your skill-level or physical abilities.
Duration:
Total | ~8-9 hours (depends on weather conditions)
Fjord Cruise | ~2 hours
Hiking | ~5-6 hours (including breaks)
Transportation | ~1 hour
Price:
Per person (over 16 years old) 1,990NOK
Per person (8-15 years old) 1,580NOK
Adrenaline level:

60%

60%

Difficulty level:

55%

55%

Scenic beauty level:

90%

90%
MODERATE DIFFICULTY LEVEL
Suitable for participants who are generally in good physical condition & have previous hiking experience.
•  Distance: 8 kilometers
•  Ascent: 500 meters
WEATHER CHANGES
Due to the possibility of rapidly-changing weather conditions, it may be necessary to make changes to scheduled trips. In the event that your trip needs to be rescheduled for another day or cancelled on short notice, you may choose between joining the rescheduled trip or getting a refund. In the event that weather conditions deteriorate during your trip, it may be necessary to turn around on the trail or head back earlier than planned. If this happens, no refunds will be given.
NOTE: We cannot guarantee that the sunset will be visible during all hikes.
TOUR INCLUDES
• 2-hour fjord cruise
• Professional guide
• Use of snow spikes (if needed)
• Use of hiking poles
• Use of head lamp
• Hot beverages & snack
• Transportation
PLEASE BRING
• Proper hiking boots*
• Warm, thick socks x 2
• Water-resistant pants*
• Rain-proof jacket*
• Fleece or woolen sweater
• Warm hat and gloves*
• Small backpack*
• Packed lunch / water / snacks
*items can also be rented
EXTRAS
• Photography package
• Hiking boot rental
• Hiking pants rental
• Hiking jacket rental
• Day-pack rental

Autumn is the perfect time of year to explore Lysefjorden and Preikestolen from a unique perspective. Witness the magic of the season's shifting colors and post-equinox daylight.
Cruise through the Lysefjord and experience the imposing Preikestolen from below. Afterwards, enjoy a peaceful afternoon hike to Preikestolen, to see the view of the fjord from above. Hiking in the low season means less crowded conditions as you relax and take in one of the most spectacular views Norway has to offer.
The adventure starts late-morning in Stavanger, with a 2-hour Rødne fjord cruise, during which you will see Stavanger from a different perspective and get an overview of the surrounding fjords, islands, and mountains. Having left Stavanger and its surrounding islands behind, you'll pass under a suspension bridge that spans the mouth of the Lysefjord. Steep mountain walls tower hundreds of meters above the fjord. Before too long, you will get to see the distant formation of Preikestolen, standing proud above the spectacular Lysefjord. As the cruise navigates back out of the fjord, you'll visit Vagabond's Cove (Fantahålå), where Rødne will share the legend of this mysterious natural landmark. The captain will also carefully steer the ferry's bow up to the Hengjane waterfall, where you'll have the opportunity to sample its crystal-clear water. During the cruise, you can choose between enjoying the striking scenery from the comfort of the boat's sheltered cabin, or venturing out onto the spacious sundeck. Back at the mouth of Lysefjorden, the second part of your adventure begins. Once ashore, you will meet you nature guide. Together, they will transport you to the base of the hiking trail. After a short briefing, you'll start your hike to Preikestolen. If conditions permit, you'll follow an alternate route, which offers unique perspectives and exclusive photo opportunities. The guide will provide seasonal equipment in accordance with the changing conditions that low-season (spring or autumn) hiking demands. Along the way there will be opportunities to catch your breath and snap photos of the spectacular nature around you. After 2.5 hours of trekking, you'll be rewarded with a panoramic view of some of the most dramatic scenery Fjord-Norway has to offer. Your guide will serve you a warm drink and snack while allowing you time to enjoy a well-deserved break at the edge of the fjord. After a well-deserved break at the cliffside, your guide will lead you back down to the trailhead, which will take about 2 hours. After a few last breaths of crisp mountain air, you'll return as a group to Stavanger.
DURATION
Total | ~8 -9 hours (depends on pick-up location and weather conditions)
Fjord cruise | ~2 hours
Hiking | ~5 hour
Transportation | ~1 hours
PICK-UP
You board the boat at Strandkaien in Stavanger city centre, at 11:00AM.

DROP-OFF
The tour ends in Stavanger at approximately* 19:00 (7:00PM).