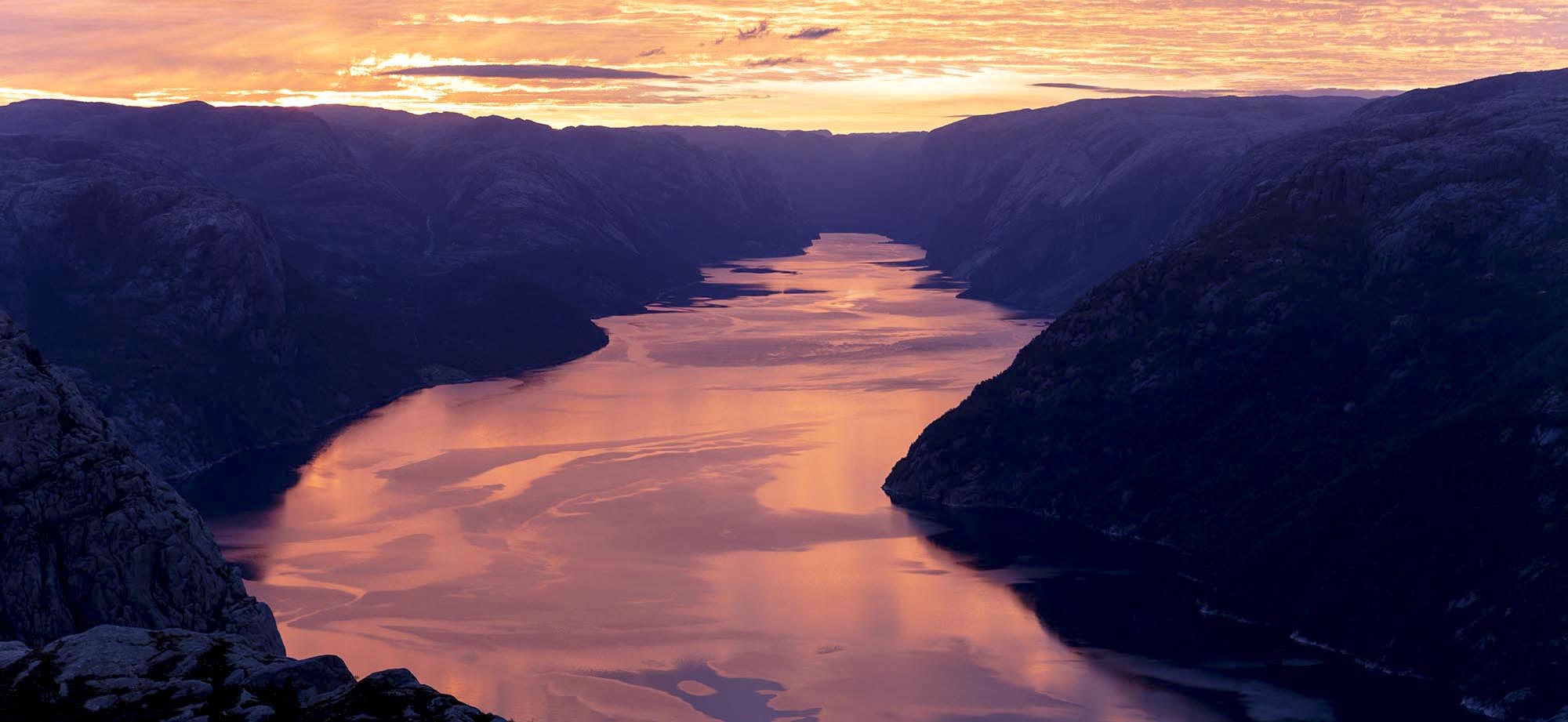 PREIKESTOLEN SUNRISE HIKE
WHEN TO GO:
APRIL 1 – october 31
participants:
MAXIMUM: 8 Hikers
MUST BE:
≥ 6 years old
> 15kg | 33lbs.
> 105cm | 3ft. 6in.
Please do not book tours that exceed
your skill-level or physical abilities.
Duration:
Totally ~8 hours (5-6 hours hiking)
8 kilometers
500M Acsention
Price:
Per person (over 16 yrs) 1,815NOK
Per person (6-15 yrs) 1,390NOK
Adrenaline level:

40%

40%

Difficulty level:

55%

55%

Scenic beauty level:

99%

99%
Suitable for participants who are generally in good physical condition & have previous hiking experience.
WEATHER CHANGES
Please check your e-mail or phone on the day of the hike for messages from us. Sometimes the weather gets in the way of a safe hike, and we need to re-schedule or cancel it on short notice. In such a case, we will notify you via text (SMS) and e-mail to the number and address you have provided us upon booking. The weather forecast changes quickly, so there is no point in checking several weeks in advance. Let us worry about that!
TOUR INCLUDES
 • Hotel pick-up / drop-off
 • Transportation
 • Professional guide
 • Use of headlamp
 • Use of hiking poles
 • Hot beverages & snac
 • Post hike breakfast at Preikestolen Basecamp 
PLEASE BRING
• Proper hiking boots*
• Warm, thick socks x 2
• Water-resistant pants*
• Rain-proof jacket*
• Fleece or woollen sweater
• Warm hat and gloves*
• Small backpack*
• water / snacks
*items can also be rented/purchased
EXSTRA
• Photography package | + 299 NOK
• Hiking boots rental | + 199 NOK
• Hiking pants rental | + 149 NOK
• Hiking jacket rental | + 149 NOK
NOTE
Prices → per-piece/per-tour
Have you ever been on a sunrise hike? Preikestolen is the perfect scene for a majestic morning high in the mountains. Delicious, diet inclusive post-hike breakfast buffet included!

By joining our guided sunrise hike, you don't have to worry about logistics or timing. We highly recommend this tour if you want to avoid the thousands of people that will be on the trail during the high-season days. Hike in the peace and quiet of dawn instead!
The adventure starts with being picked up very early in the morning by our guide from one of several designated locations in Stavanger. After a 40-minute drive, we arrive at the start of the trail (where restrooms are available). Here the guide will provide information about the trail, expected conditions, and useful tips for good hiking. When everyone is ready, and the headlamps are on, the hike begins. The landscape is dark and quiet. If the moon is up, it casts a ghostly light over us. The towering trees in the forest make the imagination run wild, and the guide knows all sorts of spooky folklore for those who are interested! The pace allows for time to adjust clothes and equipment, time to rest and enjoy snacks.
After approximately 2.5 hours of hiking, we will arrive at Preikestolen, 604 meters right above the legendary Lysefjorden. The sheer cliff face overlooks the fjord, and the panoramic view before us makes for a fantastic reward after all the work it took to get there. If we are lucky, the sun will show itself as it climbs over the mountain ridges, and bathe us in warmth, and amazing light.
After we have enjoyed the scenery and relaxed for a while, we head back down. It normally takes about 2 hours to get back down to Basecamp. In the comfort of the mountain lodge, we will enjoy a simple, but fresh and tasty breakfast. Exhausted but satisfied, we get back in the car. As we get driven back to Stavanger, we process our experience of a morning well spent.
See additional information to see what you need to bring with you for the hike!
DURATION
Total | ~7-8 hours (depends on pick-up location & weather conditions)
Hiking | ~5-6 hours (including breaks)
Transportation | ~1 hour (each way)
PICK-UP
When booking, you can select from different pick-up locations:
Here you can find the different pick-up time tables for all hikes. Make sure you check the correct table for this hike.
Your guide will pick you up at the meeting point you have selected when booking, which is stated on your

 

confirmation.
Note that

 

not all

 

accommodations or hotels are featured on our list of pick-up locations, and that all pick-ups are limited to

 

Stavanger city centre.
If you did not provide a pick-up location during the booking process, you must contact us via e-mail and receive a pick-up location based on your address.
If you do not remember your pick-up location or time, or would like to change it, please contact us by

 

e-mail.
Please be on time! The guide cannot wait for late arrivals
DROP-OFF
The tour ends in Stavanger at approximately 11:00*.
You will be dropped-off at the same location from which you were picked-up.
*Due to the sun rising at different times according to season, this estimate is rough.
VERIFIED REVIEWS FROM OUR GUESTS
Greatest Sunrise Hike Experience!!!
I booked a guided Sunrise hike to Preikestolen.
My Guide Erlend picked me up perfectly on time at my accommodation. I was very lucky because nobody else booked the same day so I had a private hike, which was pretty cool! And I was very glad and surprised about that fact that this was even possible! It was also great that we got accompanied by Balder Erlends sweet and brilliant Dog!
On the Trial we stopped now and then to listen to some birds that were waking up and Erlend could always tell which bird we just heard and which sound they make. Besides he also explained very much about useful and interesting plants that were growing on and beside the trail. Moreover he knew all the best spots to take in the best panoramic view while taking a break! ?
As we reached the Preikestolen, perfectly on time as well, we had a little snack and Erlend had a very tasty currant tea with him.
For the walk down Erlend recommended a sidetrail to avoid the people on the maintrial. We walked through a seemingly whole other landscape with beautiful old birch trees and early state blueberries!
Back at the starting point of the Hike we had breakfast in the Basecamp hotel which fulfilled every breakfast wish!
I can totally recommend the sunrise Hike to Preikestolen, since I didn't only learn very much about the local flora and fauna, but also had a great lifelong experience with the best Hiking Companions!! Thank you very much Erlend and Balder!!!??
AMAZING private sun rise hike and engagement proposal!
The best guided winter hike we've ever been on! Erlend was so accommodating helping my (now fiancé) to arrange the most spectacular private sunrise hike and (surprise) marriage proposal on Preikestolen rock on the 26th of March 2022! What an incredible, personalized experience (photography included!!) And the most amazing guide dog, Balder! HIGHLY RECOMMENDED!!! THANK YOU ERLEND, BALDER!!!
A Wonderful Adventure
We had an absolutely amazing time hiking up to Preikestolen. We felt totally safe in the hands of our experienced guide (and his lovely dog) and the views all the way up the mountain were stunning. Our guide also provided Nordic walking sticks and headlamps for us which was extremely helpful, particularly for the winter hike! I would 100% recommend the hike and this company to anyone who is looking to explore the Lysefjord.
Incredible
The hike was phenomenal! Erlend, our guide (and his gorgeous dog), were able to accommodate and adjust the hike to make the experience so much more enjoyable! We stopped to literally smell the different foliage, and we were given enough time to appreciate the scenery. My only complaint is that it's over! I highly recommend explore lysefjorden to everyone wanting to have a meaningful hiking experience
Amazing hike!
Signed up for the sunrise hike to Preikestolen, but had to cancel due to rainy weather. However, Erlend was kind enough to reschedule for later in the day, but still early enough to miss the crowds. We had the rock almost to ourselves! So thankful for the flexibility, as it was the highlight of my trip. He and his dog, Balder, were the best guides. Erlend also took some amazing photos that I will cherish forever. Highly recommend any of the guided hikes!
FANTASTIC trip
We just had the greatest trip to Preikestolen together with our fantastic guide Erland and his dog Balder. He picked us up at our hotel at 1 am. He knew a lot about the place and nature and he took photoes all the way. It was a great feeling walking with him. We enjoyed it so much. We really recommend this trip.
Must do when in Stavanger
I joined the Sunrise Preikestolen hike. This is a very good experience I would definitely recommend people go for it. The company didn't cancel the hike even though I was the only one on it so it turned into a private hike. Erlend is an excellent guide, very knowledgeable about surroundings and nature, and level headed (safety first). We were accompanied by Erlend's furry best pal Balder who was an absolute angel and so adorable. Erlend has extensive experience in hiking and also knows there the best photo spots are (so glad I added the photography option since I don't normally have people taking photos of me as I usually travel solo). I'm looking forward to my next hike with Erlend! We hope for good weather again!
Updated review after second hike: My planned hike to Kjerac had to be cancelled due to bad weather. As the weather was looking fabulous the day after, Erlend very kindly agreed to fit me into a last minute 'reverse' hidden trail hike to Preikestolen. Really glad we made it as the scenery was gorgeous and I got to see a different view of the famous rock amidst dancing clouds and the fjord; and ending with a serene canoe ride back to base camp. Thanks again Erlend for helping me make the full use of my short time in Stavanger and being flexible in tailoring a hike last minute. I hope more people will get to enjoy going hikes with you (and Balder) and hear your troll stories!
AWESOME experience!!! Don't miss it
We took the sunrise hike to Preikestolen and the whole experience was incredibly awesome! Our guide, Erland, was very kind and helpful since the day we made the reservation. During our hike he cared for every detail and was really professional while taking our pictures (he went beyond imaginable to get the best shots). He was friendly, funny and smart (the perfect combo for a guide). And meeting Balder and having his company all along was truly the cherry of the trip. If we return to Stavanger we'll definitely schedule again with Explore Lysefjorden. Great team!! ????????