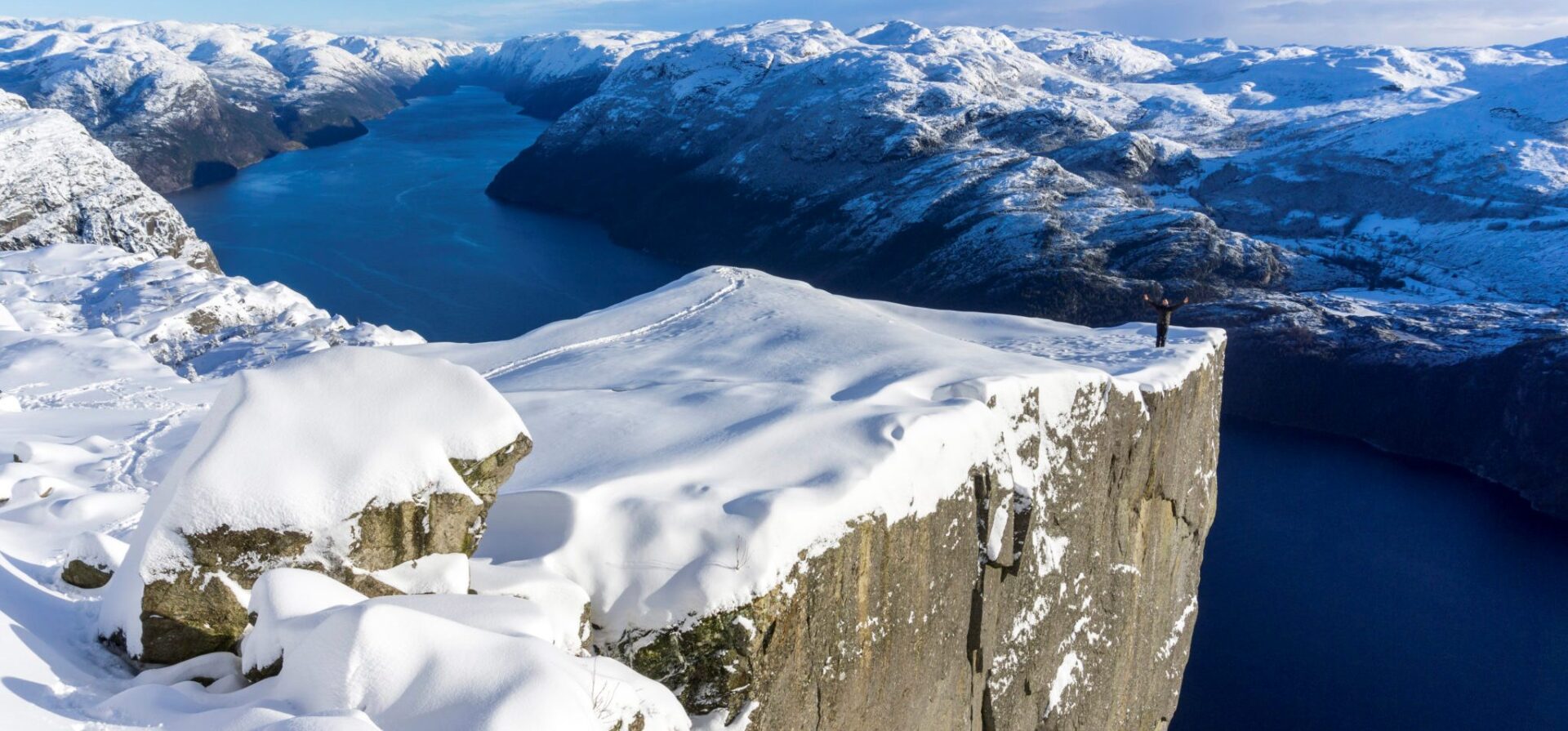 WHEN TO GO:
December 1. – March 31.
PARTICIPANTS:
MAXIMUM: 8 Hikers
MUST BE:
≥ 6 years old
> 15kg | 33lbs.
> 105cm | 3ft. 6in.
Please do not book tours that exceed
your skill-level or physical abilities.
Duration:
7-8 HOURS (5-6 Hours hiking)
Prices 2023:
Per person (over 16 yrs) 1,490NOK
Per person (6-15 yrs) 1190NOK
Prices 2024:
Per person (over 16 yrs) 1,715NOK
Per person (6-15 yrs) 1390NOK
Adrenaline level:

60%

60%

Difficulty level:

55%

55%

Scenic beauty level:

90%

90%
MODERATE DIFFICULTY LEVEL
Suitable for participants who are generally in good physical condition & have previous hiking experience.
•  Distance: 8 kilometers
•  Ascent: 500 meters
WEATHER CHANGES
Please check your e-mail or phone on the day of the hike for messages from us. Sometimes the weather gets in the way of a safe hike, and we need to re-schedule or cancel it on short notice. In such a case, we will notify you via text (SMS) and e-mail to the number and address you have provided us upon booking. The weather forecast changes quickly, so there is no point in checking several weeks in advance. Let us worry about that!
TOUR INCLUDES
 • Hotel pick-up / drop-off
 • Transportation
 • Professional guide
 • Use of snow spikes
 • Use of hiking poles
 • Hot beverages & snack
PLEASE BRING
• Proper hiking boots*
• Warm, thick socks x 2
• Water-resistant pants*
• Rain-proof jacket*
• Fleece or woolen sweater
• Warm hat and gloves*
• Small backpack*
• Packed lunch / water / snacks
*items can also be rented
EXTRAS
• Photography package | + 299 NOK
• Hiking boots rental | + 199 NOK
• Hiking pants rental | + 149 NOK
• Hiking jacket rental | + 149 NOK
NOTE
Rental Prices → per-piece/per-tou
Grab the chance to beat the crowds and enjoy Preikestolen (Pulpit Rock) and Lysefjorden during the serenity of Norway's off-season.
Join us on a unique experience on which few people take the opportunity to embark. Cold weather and snowy terrain may seem challenging and intimidating, but our guide provides the safety needed to enjoy the amazing winter landscape of fjord-Norway. The low number of visitors in these low-season months also means that we get the famous Preikestolen more or less to ourselves.
The day starts with being picked up by our guide from one of several designated locations in Stavanger. After a 40-minute drive, we arrive at the start of the trail (where restrooms are available). Here the guide will provide information about the trail, expected conditions, and useful tips for good hiking. When everyone is ready, the hike begins. If conditions allow it, the guide can take you to hidden spots along the way. The pace allows for time to adjust clothes and equipment, time to rest and enjoy snacks, and for taking pictures along the way.
 
After approximately 2.5 hours of hiking, we will arrive at Preikestolen, 604 meters right above the legendary Lysefjorden. The sheer cliff face overlooks the fjord, and the panoramic view before us makes for a fantastic reward after all the work it took to get there.
 
After we have enjoyed the scenery and relaxed for a while, we head back down. It normally takes about 2 hours to get back down to the parking area. Exhausted but satisfied, we get back in the car. As we get driven back to Stavanger, we process our experience of a day well spent.
Because of the presence of snow and ice, hiking to Preikestolen without a guide during the wintertime (January – March) is not recommended. Our professional guides are trained to safely maneuver through the frozen landscape as well as winter's rapidly changing weather conditions. They carry with them all necessary navigation, safety, first-aid, and outdoor winter equipment.
DURATION
Total | ~7-8 hours (depends on pick-up location & weather conditions)
Hiking | ~5-6 hours (including breaks)
Transportation | ~1 hour (each way)
PICK-UP
When booking, you can select from different pick-up locations:
Your guide will pick you up at the meeting point you have selected when booking, which is stated on your

 

confirmation.
Note that

 

not all

 

accommodations or hotels are featured on our list of pick-up locations, and that all pick-ups are limited to

 

Stavanger city centre.
If you did not provide a pick-up location during the booking process, you must contact us via e-mail and receive a pick-up location based on your address.
If you do not remember your pick-up location or time, or would like to change it, please contact us by

 

e-mail.
Please be on time! The guide cannot wait for late arrivals
DROP-OFF
The tour ends in Stavanger at approximately 15:00 (3:00pm)*.
You will be dropped-off at the same location from which you were picked-up.
*Due to the possibility of changing weather conditions, your trip may last longer than approximated.