Hi
We are Annika, 33 years and Manuel, 35 years old.
Our adventure in Norway began at the beginning of September with a ten days quarantine, followed by wonderful experiences in the southwest.
We are in Norway until the end of February and will be moving step by step northwards, working on different farms for board and lodging.
If someone is interested in our adventure, than visit our Facebook page https://www.facebook.com/Backpackers.Manuel.Annika or follow us on Instagram www.instagram.com/backpackers_far_away
But before we head north, we would like to report on our short, but very intense time in Lysefjorden.
Driven by the last rays of October's sun, we arrived at the Preikestolen Vanderhjem parking area in the late afternoon of October 15th, 2020.
We parked next to one of the few parked cars, packed our headlamps and camera and started our hike to Preikestolen.
The trail turned into one of the most beautiful hikes of the last weeks.
The way followed over beautiful footbridges and even small climbing areas.
Some hikers came towards us and we slowly realized that it could be pretty lonely.
The sun was slowly leaning towards the horizon when we finally arrived.
Indescribable – that is probably the right description.
We hardly talked to each other because the beautiful view literally took our breath away.
We could admire the sunset, watched the neighboring planet Mars rising at the same time and enjoy the solitude.
After almost 2 hours we made our way back through the rapidly accompanying darkness – the next day/the next highlight was waiting for us!
The Kjeragbolten –
The next day we drove comfortably with a few stops to the parking lot of Øygardstøl.
There are exactly 5 cars in the otherwise full parking lot.
We were greeted very warmly and informed that the last day of the season is coming to an end today.
We did not hesitate long and set out on the very strenuous but beautiful hike to Kjeragbolten.
The trail began quite steeply, but after about 2 hours it turned out to one of the highlights of the west. Wonderful perspectives and absolute silence protected our path. When we finally arrived at our destination, we realized why so many people were talking about this rock formation.
A question that we kept asking ourselves "How must it have looked when this formation came about?"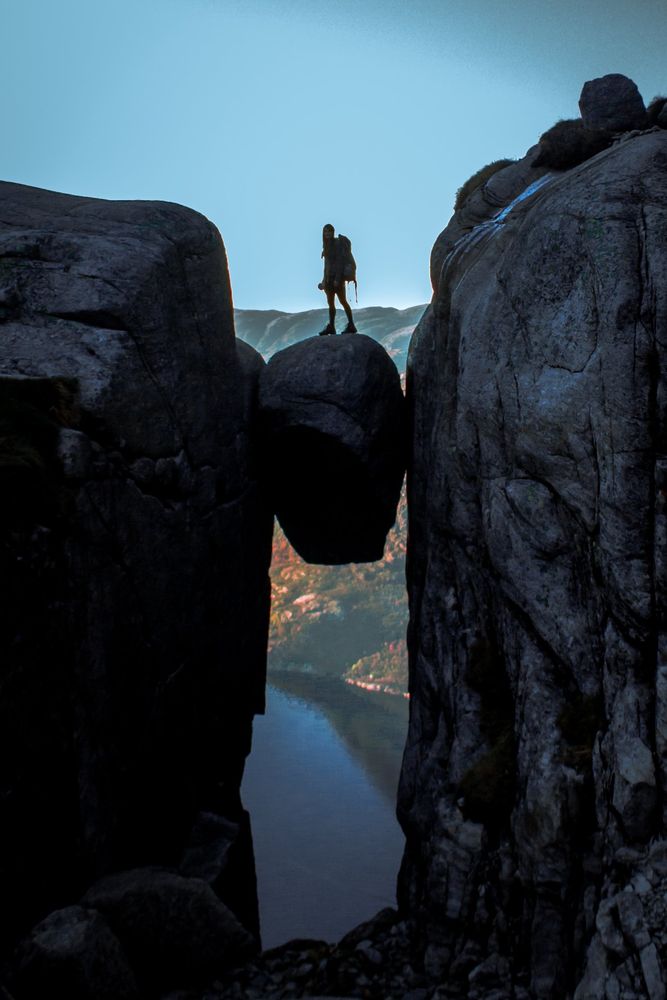 Step by step we dared to climb the stone, and the last rays of the sun accompanied us here too.
We went back into the dark and were glad that many hikers left some signposts in front of us because it was a challenge to find the right way back. But as you can see-me made it 🙂

We are still thinking of these wonderful 2 days, and will definitely come back again one day!
Annika & Manuel